Message from the Chairman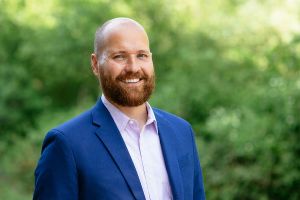 On behalf of the Rome Area Chamber of Commerce, welcome to our community!
For 108 years the Rome Area Chamber of Commerce has led the way as our city has developed and responded to an ever-changing world. As Chairman, I pledge to continue the Chamber's mission to vigorously advocate for business growth and development. What continues to amaze me about Chamber members is their energy, enthusiasm, and willingness to step up and do their best for Rome - and I look forward to continuing that momentum.
Although I am relatively new to the Chamber, I have been working in software development for more than 20 years now and a member of the Chamber Board of Directors for three years.  This is the 19th year of the existence of AIS and we have grown to be a leader in cyber security.  We have offices all over the country with about 350 employees, and I am so proud to say we are headquartered right smack in the middle of Griffiss Business & Technology Park, right next to that magnificent eagle statue at the round-about.  We are very excited about the potential we continue to see in Rome with the vibrant business, medical, and educational sectors that add to the revitalization and marketability of our community.
I look forward to the coming year and pledge to do my utmost to meet the needs of our membership and Rome.
Adam Hovak
Chairman of the Board of Directors
Assured Information Security
Email: hovaka@ainfosec.com
From the Rome Chamber of Commerce Certificate of Incorporation, February 12, 1912
"The particular purposes for which the corporation is to be formed are: To foster trade and commerce, or the interests of those having a common trade, business, financial or professional interest, to reform abuses relative thereto, to secure freedom from unjust or unlawful exactions, to diffuse accurate and reliable information as to the standing of merchants and other matters, to procure uniformity and certainty in the customs and usages of trade and commerce, and of those having a common trade, business, financial or professional interest; to settle differences between its members, and to promote a more enlarged and friendly association between business men."
To this day, the Rome Area Chamber of Commerce is funded by businesses, professional firms, organizations, and individuals who recognize the importance of having a business advocacy and community promotion group in place to encourage economic growth in Rome.  The Chamber is not a part of government.  Its board of directors, committees, and many members volunteer their time, talent, and resources for the betterment of our community.