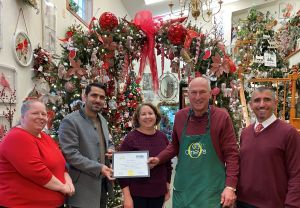 The Rome Area Chamber of Commerce visited Olney's Flowers, 2002 N James St, Rome, to congratulate Emily and Will Olney, on being the Chamber Member of the Week.
Olney's Flowers is happy to be serving Rome as a full-service florist since 1988. They deliver flowers to the greater Rome/Utica area every day. Olney's has a very festive Christmas display set up now, with gifts from tree ornaments, Rome towels, magnets, signs, anything Christmas, manly gifts, candles, jewelry, children's gifts and clothes, and so much more. Stop in, you'll be glad you did! Your landscape at home may be dormant now, but Olney's is busy making plans for next year's annuals, perennials, nursery stock, bulk materials and hardscapes. They grow most of their own bedding plants, trees and shrubs, giving you a great selection of plants that do well in this area. Open Monday- Friday 8am- 7pm, Saturday 8am- 6pm and Sundays 8am- 5pm for the holidays. Get in the spirit at Olney's!
Visit https://www.olneysflowers.com and follow them on Facebook https://www.facebook.com/olneysflowers
Pictured L/R: Chamber Board Members Tiffany Abele of AmeriCU Credit Union and Nick Angelicola of ROI Office Interiors. Emily and Will Olney, accepting the Member of the Week certificate. Chamber Board Member Greg Mattacola of Strategic Financial Services.