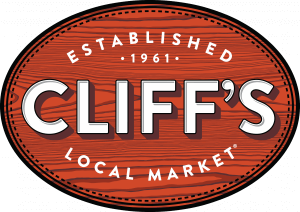 Cliff's Local Market is a chain of convenience stores in the Central New York Region owned and operated by Clifford Fuel Co. Inc. Clifford Fuel Co, Inc.'s stores were operated as a franchisee of Nice N Easy for more than 30 years. In June of 2017, Clifford Fuel Co. Inc. re-branded their stores to Cliff's Local Market to better represent their identity, mission, and strong 55+ year history.
Cliff's Local Market locations have either CITGO or Sunoco fuel. Cliff's Local Market also has Subways located within five of their stores and Dunkin Donuts located within two of their stores. Eleven stores boast the Cliff's Local Market food service program with fresh made to order subs, wraps, melts, salads and more. Eighteen locations serve hot and ready and made to order pizza.
Local partnerships are what sets Cliff's apart. You can find Utica Coffee, Grassy Cow Dairy Cheese Curd, It's a Utica Thing, 1,000 Islands River Rat Cheese Curd, Ramon's Bakery products and more within the stores. Cliff's is also proud to be involved with local causes like Stuff the Bus, Boilermaker, United Way of the Valley and Greater Utica Area, Utica Comets, MDA of Central New York, and many others.
Cliff's is proud to have more than 300 employees and to be the convenience store that keeps you going
To learn more, visit https://cliffslocalmarket.com/stores/rome or call (315) 337-5329 for West Rome or (315) 339-4036 for North Rome.